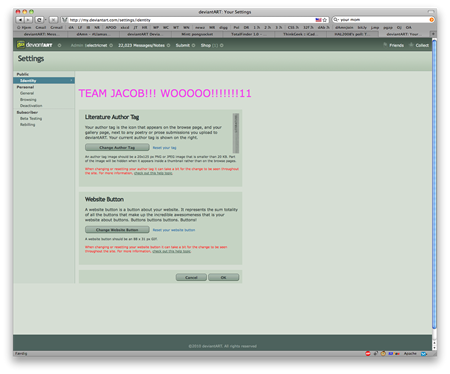 Man, yesterday's April Fools was the greatest ever.
Screw
all the other web sites
, I had an amazing time right here on dA yesterday, and it's all thanks to all of you guys. Not planning to forget any of it soon, I collected a lot of proof of awesomeness and I'm giving it all to you below, with some thoughts from yours truly.

First off, before I even knew what the April Fools joke was going to be, I set out to create my own. In doing so, I got some techies from the awesome dA staff to help me implement a simple line of CSS on my page on April 1st. But just one line of CSS can do a lot of damage.

I turned my entire user page upside down
on April Fools day. It was ridiculous, and after I modified some widgets and created a journal that used
uʍop ǝpısdn
characters, the user page looked like this:
(click it to get the full size)

As you can see, the journal actually displayed (sort-of) correctly on the page, since the upside down was turned upside down!

Also, this experimental feature of CSS rotation that I used seems to be so experimental that it knocked out a couple of people's computers!

A lot of people told me they had blue screens as the day passed, and I was amazed, but none of the stories beat this one:
I'm very sorry for your breaking you guys' computers.

Protip:
Get new ones.

Then, I jumped on dAmn and enjoyed the April Fools day that was already going pretty well, but I realized something was off. My page was upside down, so why wouldn't I be too? Quickly I borrowed the text flipping code from
fliptext.org
and turned it into a
cryptic but hilarious dAmn user script
.
Suddenly everything I said was upside down!
Soon more people were joining in and doing the same, 'till no one understood what the hell was going on. The script, which doesn't work when it's no longer April Fools, also included a
red button
that turned the
entire screen
upside down, so suddenly the upside downers were the people talking normally! This resulted in hilarity: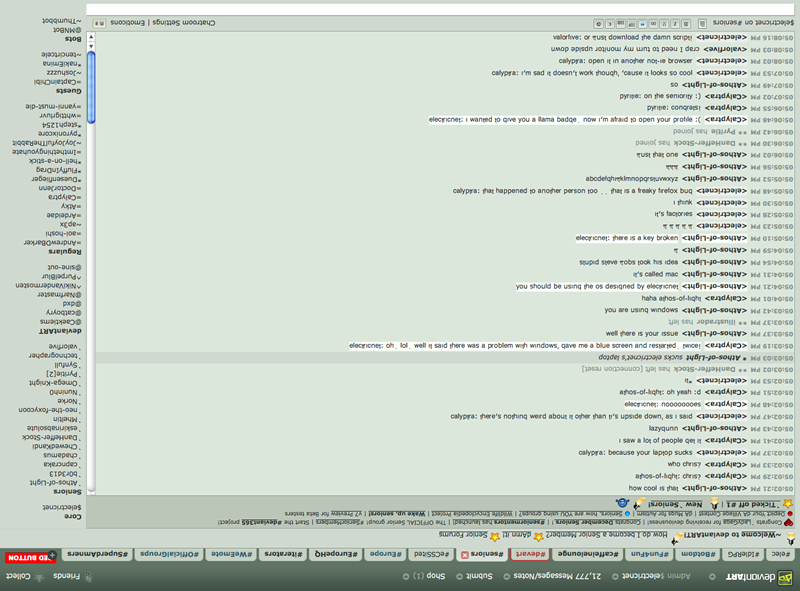 Ever eager to have more fun on April 1st, I spontaneously decided to make a
Base64-encoded
version of my usual "How's you?" poll. This resulted in some absolute geeky rofltiems in that some of my most geeky fellow deviants
had entire conversations with me in Base64
. Seriously, you guys.
So awesome.

But, if we move away from the April Fools pranks that
I
made, I want to mention the ones that the site itself pulled off, because they ended up being pretty awesome too. While many people simply think that getting their icons replaced with a silly animated fanboy/girl-ish GIF tribute avatar—as fun as it was—was a pretty simple joke, I noticed there was a genius twist to it this year:
The icons divided people into teams.












"But what's the magic in that?", you'll probably ask. Well, dear reader, the answer may surprise you: the magic is nothing less than the
amazing dA community spirit.

You see, the natural sense of
community awesomeness
in all of us suddenly got us creating and participating in various groups and gatherings based on our assigned team, on a mission to get the most llama badges.

Just look at all those people talking!

Naturally, my team, the ever-awesomest
Team Jacob
is winning on this screenshot.
But the awesomest part of the entire day was later on in the evening, when my fellow members in aformentioned team created a chatroom for the occasion:
#LlamasForJacob
. Aimed at sharing the llama badges between all the superwolfy team members, the room quickly spread via word of mouth and the amount of awesome people (and thus,
the amount of awesome fun
) in the room increased exponentially. At the end of the day, it looked like this: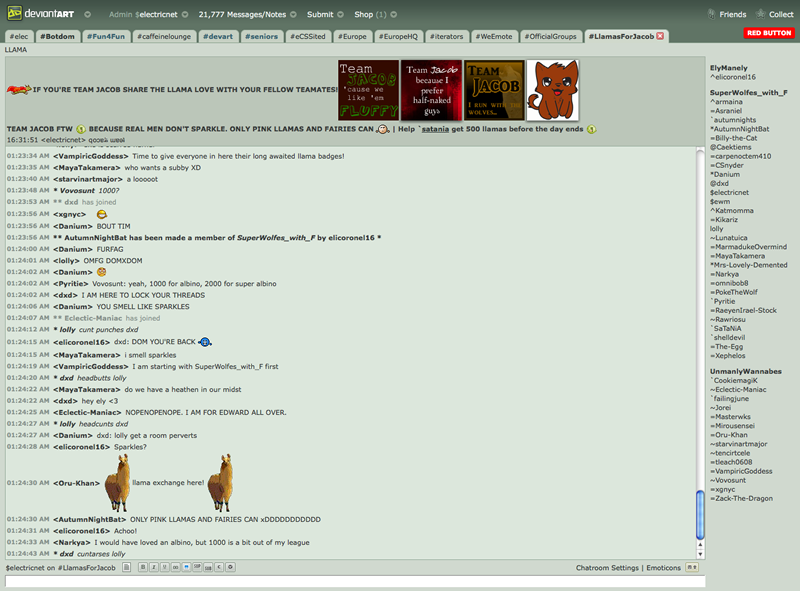 Just being in that chatroom was an awesome experience.
The above is, to me, an exact representation of just what the awesome dA community is capable of:
getting a lot of people together in spontaneous situations and just having an awful lot of fun.

And that is why, dear readers, this April Fools day was the
best one ever.
Thank you all for making the day so awesome.

Oh, btw: give me llamas!
But the fun is still ongoing:
Check out ...
DEVlANT's llama contest
,
HAL2008's llama challenge
Link your April Fools-related journal to mine, and
I'll link yours here!