Here's the new stuff that is freshly baked from the elec factories
I've been busy working on various things! Here's the stuff I hadn't mentioned in my journal yet…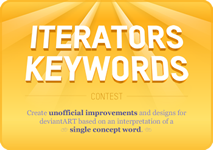 We launched a contest over at #
iterators
! It's got some grand opportunities for CSS-makers, userscripters, browser extension engineers or anyone else who has a good idea for dA and can represent it visually somehow! Additionally, it's got great prizes and an awesome judging panel.
Check it out!

That's right! Development of
SuperdAmn
is continuing! And now with the help of
you!
The group #
SuperdAmners
is becoming a hub of the next step in SuperdAmn, with your ideas and suggestions. Last but not least, you can get your questions answered from our brand new team of SuperdAmn Ambassadors!